Volunteers have been the lifeblood of the Lathrop House, from their early efforts to save it from the wrecking ball to spearheading its development as the only
Underground Railroad station in northwest Ohio open to the public.  In addition to planning for the continuing preservation and restoration of the Lathrop House, volunteers are responsible for researching and developing educational programming, training and serving as docents at the site during regular hours of operation and for private group tours and school field trips, bringing history to life through first person historical interpretation, providing offsite speakers and partnering to bring awareness to other worthy causes in our community, and staging two signature summer events at the Lathrop House: The July 4th reading of The Declaration of Independence, and the Celebration of Freedom in August. This historic site has been a labor of love for dozens of people since 2001.  What draws them to this project?
Sallye Miyara, former social worker, was instrumental in forming a partnership with The Toledo Symphony Orchestra that resulted in last year's North Star Festival and Young People's
 Concert with an Underground Railroad theme.  On her involvement at the Lathrop House, she notes
 that she is "… honored to share the history of the area with the people who come to see us.  I continue to do this because I enjoy it."
A volunteer who has worn many hats in his service to the Lathrop House is Paul Allan.  Having visited many historic sites as a child, Paul has always considered history as something one can "reach out and touch".  An engineer and a self-taught woodworker, Paul has crafted a beautiful Shaker table and made hand-hewn benches, stools and a podium for the summer kitchen and museum area of the house. He considers his roles as docent and first person historical interpreter a way to participate in history.
Jackie Konwinski heads the docent training and research and educational development areas of the programming at
the Lathrop House.  A retired AP History teacher, Jackie not only ensures program excellence, bu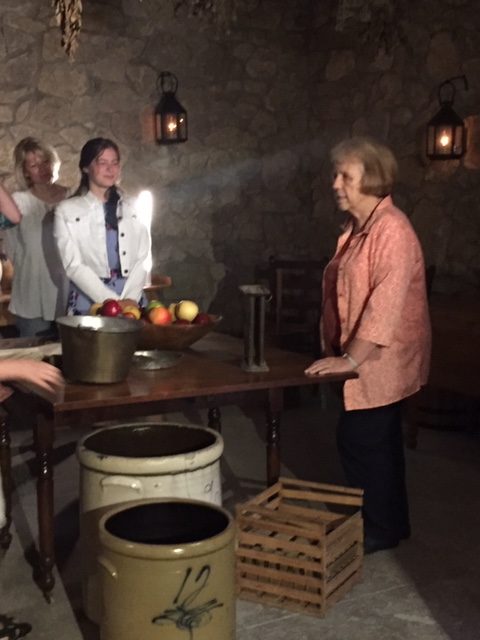 t serves as a docent and offsite speaker.  She shares, "This house gives me the opportunity to remember and celebrate the Lathrop family and the runaways as they worked for freedom and justice."
These are but a few of the individuals who share their talents, hobbies, skills, and passion for history as volunteers at the Lathrop House.  It is a remarkably diverse group that is always open to new members, eager to share their knowledge andknow-how, but at the same time are open to the gifts that incoming volunteers bring.  In short, after almost 170 years, the Lathrop House continues to be a welcoming place.